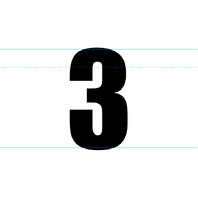 Triskaphobia, also known as triphobia and triophobia (from Greek tria "three"), is the fear of number three. People may fear that three represents the limited number of warnings till they are penalized or resulted in other bad outcome, like 'three strikes, you're out'. Sufferers would often avoid situations where three is used, like getting to be part of three. Three can sometimes be considered an unlucky number because of the three different superstitions: the middle person in the photograph will die first; third light, meaning the third person to light a cigarette from the same match or lighter, which originated during World War I when a sniper might see the first light, takes aim on the second and fire on the third; and bad luck often come in threes.
Notable people with Triskaphobia
Gabe Newell, director of video game development at Valve Software, is afraid of the number three. It's the reason why he doesn't attempt developing third installments of any Valve franchise, such as Half-Life 3, Portal 3, Left 4 Dead 3 or Team Fortress 3.