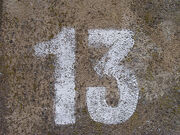 Τρισκαιδεκαφοβια (from the Ancient Greek tris meaning "3", kai meaning "and", deka meaning "10" (since 3+10 is 13) is fear of the number 13. The term was coined in 1911. This is related to the fear of Friday the 13th, called paraskevidekatriaphobia.
The fear goes back to the Babylonian times. One of the common origins for the fear was when Judas was the 13th person to sit at the Last Supper with Jesus Christ and 11 other people, and then ultimately hung himself in frustration.
Sufferers would avoid using things that designate 13, like going to channel 13, driving on the street with 13 in its address, going to the 13th floor (though many buildings skip this designation), and even skipping question 13 in schoolwork. Some triskaidekaphobia sufferers who turn 13 years old don't want to be called a 13-year-old, instead they continue to be called a 12-year-old after the 13th birthday, then skip to 14 on their next birthday.
According to phobiasinfo.com there are also a lot of famous people who suffer from triskadekaphobia such as:
Mark Twain
Arnold Schoenberg
Stephen King
Sholom Aleichem
Nick Yarris