We're Getting Mutants in the MCU - The Loop
Play Sound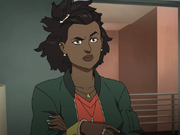 THIS HAS SPOILERS FOR THE SHOW!!!!!!!!!!! WATCH IT FOR YOURSELF FIRST IF YOU HAVEN'T (its great)!!!!!! THINK, READER, THINK!!!!!!!!
Amberphobia is the fear of Amber from the television series, Invincible. Roughly 95% of people who have watched the first season of Invincible have this phobia.
In the first few episodes of the season, Amber is shown to be a decent, normal human being. In the 6th episode, she is shown to be helping people from a cyborg. The cyborg grabs William, Mark's best friend, and is about to kill him. Just as the cyborg is about to punch William, Mark returns as Invincible and tells William to run. Later on, the cyborg eventually kills itself by jumping onto a sharp statue (or whatever that pointy thing is).
Mark returns back to normal and tells Amber that he went to call the police. Amber understandably and reasonably breaks up with him, thinking that he just ran away.
Later in the same episode, Mark decides to tell Amber his secret identity by going through her bedroom window. Amber finds him as Invincible, but tells him that she already knew that he was a superhero. Having hearing this line made almost everyone instantly hate Amber and fear her, for being absolutely selfish and ungrateful. Now knowing that Amber is the worst, most people now worry on what's about to come in season 2.